Overhead door repairs 617-480-3339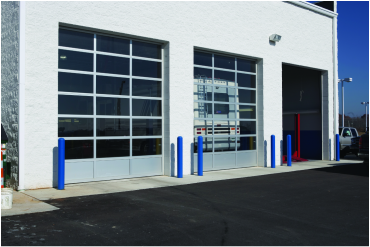 We offer fast, reliable service and fare pricing for your commercial garage door repairs or new overhead door installations. We service the Boston greater, MA and surrounding cities. South Boston, Roxbury, Jamaica plain, Dorchester, East Boston, Milton, Quincy, Cambridge, Charlestown, Malden, Everett, Revere, Chelsea, Somerville, Medford and more….
​
A business cannot run good with a broken garage door; we believe that your overhead door should be running good at all times. They can break at any giving time, and cause problems to run your business
---
---
​If your overhead door does not work properly call us
​
 Overhead door stuck
 Overhead door bent track
 Overhead door Broken spring

 Overhead door opener repairs
 Overhead door broken cables
 Overhead door damaged panels
---
*We will gladly come to do the overhead door repairs in Boston, MA to your shop or place of business and get your business back in track. Our experienced trained technicians will handle the repair of your overhead doors, door operator repairs and make sure that the work on the rolling garage door is done properly to maintain your business running smooth and secure.
Amarr | C.H.I. |Wayne Dalton | Lift Master | Manaras | Garaga
---
Garage door spring Repairs Boston 1-877- 899-3667
​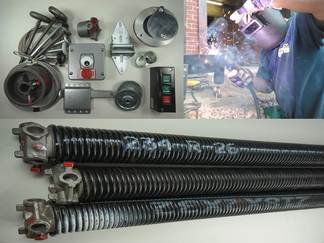 Commercial Torsion springs repairs in Boston & residential torsion spring repairs usually installed above the overhead door in a tube or solid shaft depending on the size and weight of the garage door they might have 1, 2 or more, That would be the case with large and heavy overhead garage doors that sometimes can have a combination of smaller springs within the large spring.

Replace or repair garage door broken springs can be a dangerous task and not done properly can lead to personal injuries and cause property damage. * We always, always encourage business owners and homeowners have their garage doors service by a professional overhead garage door repairs company Boston. *When a door is too heavy to lift might be the indication that a spring is broken *Extension spring are the ones that are above the rolling garage door next to the horizontal tracks, they have to have safety cables to prevent the spring to fly, swing and damage things or hit someone. Safety cables are a must have on extension springs.

*When replacing a spring is always a good idea to replace both springs if an overhead has two springs, because we assume that they were installed at the same time and one broke the other one will brake soon after
---
---
Overhead garage door bent track Boston​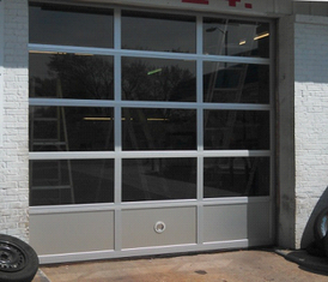 If a Garage door track is bent, there could be a few reasons for it; accident perhaps it was hit with and object like a snow blower, automobile, machine, forklift, pallets, trash cans and other things that can be stored at the garage or machines that are used to provide service to the business.

Another reason might be the result of a broken piece of hardware and the garage rolling door is continued to be used without notice that a part is broken and no repairs. *A lot times an overhead door broken spring, broken roller, broken hinge or a tangle cable can cause a major damaged to an overhead garage door those might be small parts but they should be in good working conditions.

For instance if a garage door has a broken or missing top/bottom roller it will make the rolling overhead door to open sideways meaning the door will open/close leaning towards one side more that the other and in the process force the track and as a result a track will bend. Overhead door repairs in Boston, MA will replaced, repair garage door bent track, just call us or email us we will fix it.
---
---
New Overhead door installations 617- 480-3339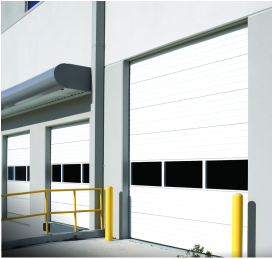 Used in the commercial, industrial and agricultural fields. Gas stations use aluminum garage doors, factories use loading dock doors and mechanic/auto body shops use sectional panel doors When choosing a garage Door should have into consideration; style, material the door is made, glass/windows, insulation, low headroom track for doors that don't have much space overhead or high lift track for doors that need to go up towards the ceiling.

Our team of professionals will be glad to help you make the right decision and fit your budget. We have a wide selection of overhead doors, garage door operators, parts and accessories to offer. Just give us a call for a free estimate.
---
We carry a wide variety of garage doors brands, accessories, and parts:


Steel insulated Overhead Doors

 Non-insulated overhead Door

 Aluminum overhead Doors

 Glass Overhead Door

 Commercial garage sectional door

 Overhead with pass door
 Overhead door panels
 Overhead garage door operator
 Commercial overhead door
 Garage door Repairs Boston, MA
---
Our team of professionals will be glad to help you make the right decision for the installation of a new garage overhead door or garage door repairs Boston and fit your budget. We have a wide selection of overhead doors, garage door operators, parts and accessories to offer. We service and repair major brand names garage doors; Clopay, Garaga, Ideal, overhead, Amarr, Cornell, National systems, Logan Grate, Boston grate, Wayne Dalton, C.H.I. just give us a call for a free estimate.
Wayne Dalton | Lift Master | Amarr | Manaras | Clopay | Garaga

---
Need repairs or new garage door install in Boston, call us 1-877- 899 3667

We offer overhead door maintenance, service to prevent your door from major failures and cause big expenses.

We also provide garage door operator repairs and new installation

Trolley operator Jackshaft Gear head operator's Central door operator
---
We fix door operators or upgrade them if needed. Overhead door motors systems have electrical and mechanical components that must work fine at all times:
 Remote controls programmed
 Safety photo cells (eyes)
 Safety bottom edge repair

 Key switch repair
 Wall console install
 Push button repairs
---
Manaras | Lift master | Genie | Power Master | Overhead | Allstar
​

We are just 10 minutes away from downtown Boston, MA conveniently located in the city of Malden MA and we serve the surrounding cities: