Call Us! We will fix it! 1-877-899-3667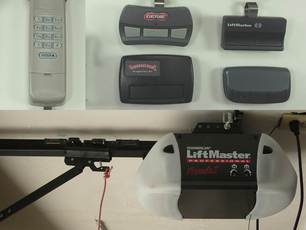 * We Repair commercial garage doors operators, remote controls and Residential garage door openers in Boston, MA. *Garage door operators are used in a residential, commercial fields and there are many models, kinds and brands *Residential garage door operators can break do to misused, age or accident. Here some door operators; Direct drive door opener, Wall mounted or jackshaft operator (not often used in homes) and trolley operator which is the most commonly used in residential garage doors and is always installed hanging by the ceiling of the garage. These garage door motors can be; chain drive operator, belt drive opener, or screw drive opener.
---
---
Our experience garage door technicians will fix any of these garage door operators or install a new one if needed. The most common problems that they might have are:
Broken chains/belt




Broken sprockets

Malfunction Photo cells
​Module keyless entry
​

Residential garage door opener




Rpm sensors

Remote control programming
​Malfunction wall mounted
​
Lift master | Sears | Genie | Linear | Craftsman | Chamberlain
---
Roll up Door Operator Repairs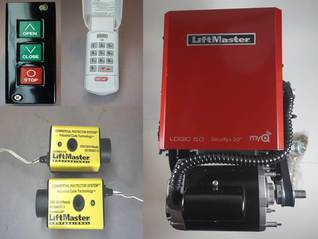 *Commercial Door openers are divided in three categories; trolley door operators used with.
Standard lift sectional garage doors, overhead doors.
Trolley door openers are design to open & close follow the garage door's horizontal track and yes they are installed hang from the ceiling.
​
*Jackshaft door operators are used on rolling steel, grilles roll up doors also sectional overhead doors with a solid shaft and sprockets installed can be used on high lift track's doors, or vertical high lift doors they have a release disconnect for manual operations
*Garage door openers with chain Hoist operators similar to jackshaft operator but with an added standard chain hoist and a release disconnect for manual operation
---
---
Commercial Overhead door operator repairs 1-877-899-3667
​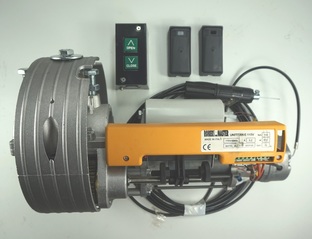 *Central door operators or Roller shutter door, window opener & remotes, used with roll up doors
They can have remote controls and safety devices as well.
We provide repairs to any of these Automatic door operators in Boston, MA
*Operators can stop working at any time for many reasons. Our qualified, experienced and fully insured technicians will fix your commercial garage door operator in Boston, MA or replace with a new one if needed. Just a call away to get your overhead door problems solved.
*Liberty overhead Door provides repairs and installations of rolling doors safety devices and access systems, Now a day's operators come with a safety feature called "safety photo cells" which prevents the door from closing when someone crosses the garage door in its closing path and break the invisible bean light, it will reverse & open again.
Operators have to comply with UL 325-2010
*we usually see garage door operators in Boston deteriorated after extremely use and not been serviced in a long time, it is very important to have the overhead door operator service at least one time a year
*When servicing a Garage door opener we will inspect and make sure the belts, sprockets, safety devices & chains are working in perfect order and lubricate the parts that need lubrication and have our garage door operator repairs company in Boston, MA make the adjustments or repairs at the moment to prevent for future failures and expensive repairs.
---
Here some common problems:

Burned motor




Broken limit switches


Burned transformers
​

Burned logic board


Defective photo cells
Garage door opener repairs

Broken sprockets




Defective safety edges




Broken chain




Malfunction key switch


Defective remote controls
​Malfunction Rpm censor
---
Garage door Revere, MA | Rolling door Melrose, MA | Garage door Everett, MA | Rolling door Medford, MA | Garage door Somerville, MA | Roll up door Malden, MA | Garage door East Boston, MA | Roll up door South Boston, MA | Garage door Newton, MA | Rolling door Dorchester, MA | Garage door Brookline, MA | Rolling door Roxbury, MA | Garage door Charleston, MA | Roll up door Jamaica plain, MA | Garage door Quincy, MA | Roll up door Cambridge, MA

---
New Garage Door opener Installation 617-480-3339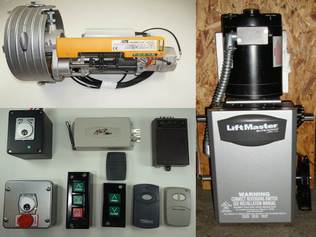 *Residential & commercial garage door repairs and new installation in the Boston, MA area.
* safety devices, remote controls, keyless entry, key switch, wall mounted module, 3 bottom switch, photo cells, automatic operators, sensors, weather strip, belt drive, chain drive, ¾ hp repairs or installed
*Commercial door operators are usually designed to support the rolling door work load. That's why is very important to choose the right motor for the right garage door.
*Openers come in many sizes and models
starting from light duty commercial garage door operators, medium duty, heavy duty & industrial duty door operators
Operators could be from 1/3 horse power 1/2 Hp, ¾Hp, 1 Hp, and so on, the heavier the rolling door the more horse power it will need.
* Some openers have a life time warranty in some components limited life in other motor parts.
*Trolley overhead door operators as well as jackshaft openers electrical power (voltage) can be from 108, v, 115, v, 230, volt 480, volts. Single phase, 3 phase.
*Call our professional garage door opener repairs company in Boston, Ma to take care of your repairs or new installation; we will gladly guide you to pick the right overhead door motor & devices for your garage door.

---
---
We carry a wide variety of garage doors brands, accessories, and parts:
Manaras | Lift master | Genie | power master | overhead | allstar
Trolley door opener
 Jackshaft door operator
 Chain hoist door operator
 Gear head door operator

 Access control systems
 Rolling shutter openers
 Central motor operators
​ MyQ accessories
---
Additionally providing garage door carpentry, welding, box truck roll up door repairs or garage door work related job. We pride ourselves with the customer satisfaction; we will provide you with manufactures warranty and labor warranty provided by us.